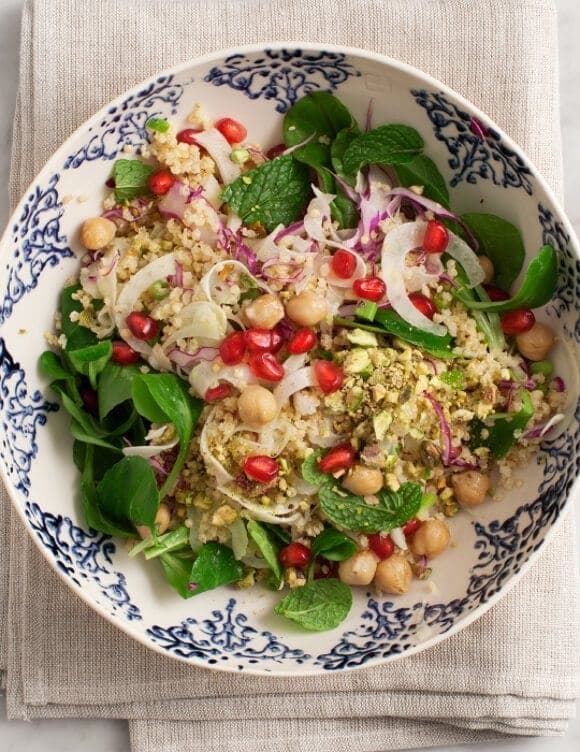 I mean seriously! Pomegranate salad? Delish. Get to making asap. Al sorts of deliciousness goodness for you!
Minty Millet & Pomegranate Salad
Serves:

serves about 4 as a side
2 cups cooked millet (I use this method)

1 bulb fennel, thinly sliced

1 cup chickpeas, drained & rinsed

¼ cup or so, thinly sliced red cabbage

¼ cup scallions chopped scallions

⅓ cup pomegranate seeds

⅓ cup toasted pistachios

a few handfuls of baby salad greens

handful of mint leaves
dressing: (this will make extra)
2 tablespoon olive oil

2 tablespoon tahini

3 tablespoons fresh squeezed lemon

3 tablespoons fresh squeezed orange

optional: 1-2 teaspoon maple syrup

salt & pepper

a little water to thin, if necessary
Whisk together the dressing ingredients, taste and adjust seasonings. Set aside.

Optional step: toss your chickpeas in a small skillet w/ a little olive oil, salt and pepper until browned.

Toss together all salad ingredients with enough dressing to coat (you don't have to use it all). Taste and adjust seasonings.
Recipe from: Love and Lemons
P.S.
Don't forget to love this post up and subscribe if you want to see more of my post.
Go follow me here too!